Australia Facts
It is Australia day on the 26th January, but how much do you know about Australia?

Australia is huge! The United Kingdom (that's us) can fit into Australia thirty three and a third times!


More than one third of Australia is just desert.


Australia is the only country in the world that covers an entire continent.


The platypus, kangaroo and echidna (looks a lot like a hedgehog!) are only native to Australia.


There are thirty six species of poisonous spider and twenty kinds of venomous snakes living in Australia!


Australia day celebrates the day in which the first fleet of ships arrived in Australia in 1788 from the United Kingdom. They were mostly carrying prisoners who were being sent to Australia to live there for the rest of their lives!


There are lots of different types of rainforests in Australia.
Tropical rainforests can be found in the north east and they have the largest amount of unusual plants and animals out of all the rain forests.

Subtropical rainforests are found near the mid eastern coast.

Broadleaf rainforests are in the south east of Australia and on the island of Tasmania.
Learn more about tropical rainforests.


In 1851 thousands of people moved to Australia because gold had been discovered there!


Tasmania has the cleanest air in the world!


The Great Barrier Reef is the world's largest reef system and it can be seen from outer space! It is home to thousands of different fish, turtles, whales, porpoises, see snakes, sharks and birds!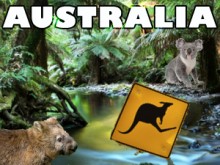 Do you like this?!